Do you regularly run short and medium distances and are you looking for the ideal carrying accessory to store your small belongings? Then you've come to the right place!
Not enough space in shorts or leggings but a bag would be too bulky? A running belt is without doubt the most suitable for your practice.
But how to choose your running belt ?
The activity (running or trail running) as well as the duration of your outing and your objectives will determine your needs.
At Oxsitis, we offer different types of belts to accompany you during all your sports sessions. From women's running belts to men's hydration belts, we have something for everyone!
A minimalist belt, ideal for running and marathons
Let's start with the Flaskbelt, a hydration belt with two adjustment straps for superior support and optimal stability.
Its 2 small rigid 200ml flasks, reminiscent of those in Asterix, will allow you to take water or any other magic potion with you to run for miles… and why not a marathon! 
Its Mesh3D material is very comfortable and limits the irritations that can occur as a result of recurrent rubbing. At the back of the belt, you will find a large pocket with a water-repellent fabric that protects your belongings from the rain.
In short, if you're looking for a stable running belt to accompany you on running sessions and marathon-type competitions, the Flaskbelt will suit you perfectly.
A belt with an insulated water bottle
Winter and hot weather don't scare you. No matter what the weather is, you need to run and neither the cold nor the heat will stop you. However, hydration is still very important to stay efficient.
An insulated water bottle has the advantage of keeping your drink at the desired temperature. That's why we designed the Thermolight, which includes a 600ml insulated bottle.
It is a very stable belt with several pockets, one of which is secured by a zip. A reflective strip is placed on the back of the product to ensure that you are visible even at night. It is also perfect for trail running and Nordic skiing.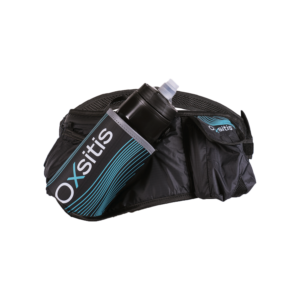 A lightweight, comfortable and ultra-fit running belt
If you want even more lightness and freedom of movement, choose the Slimbelt.
A new generation hydration belt that fits the shape of your pelvis thanks to its 4 Way stretch fabric.
It has four pockets, two large ones on the front and back, and two smaller ones on the sides. You can therefore carry with you, 250 ml or 500 ml soft flasks, energy bars, smartphone…
No more belts that move up and down, this one is ulra stable. The stretch and elastic material of the Slimbelt is a real guarantee of stability and does not move when you move.
A number belt and pole holder for the trail
If you run with trail poles and love competition, then you should consider our Slimbelt Trail 2.
They include two non-slip elastic straps on the back of the waistbelt that allow you to store your poles horizontally very quickly. You also have something to hold your race number with a pair of magnetic holders. Say goodbye to the little holes in your t-shirts, how practical is that?
For those who prefer to run with a bag or without anything, but don't have anything to attach their number to, you can opt for the Bib Belt. A strap consisting of a pair of magnetic bib holders. Simple and effective!
Amateur or competitor, road or trail, our hydration belts will suit all profiles and practices!
And if you're still convinced that the bag is the best companion for the road, then you can read our article: How to choose your trail running backpack.
You may also like to read